Whether you're looking for an exciting foodie experience for a special occasion, or you simply wish to kick off your family holiday with the ease of keeping out the kitchen, hiring caterers during your stay will add a whole lot of fun without the hassle of cooking yourself. That's why we've put together a list of the best catering companies in South Devon, to help make your break that extra special… we apologise in advance for rumbling tums!
Sit back, relax and enjoy reading about some of our favourite local caterers. If you would like further information regarding Covid-19 and how the catering companies are currently operating, be sure to visit the individual business websites.
The Kitchen Table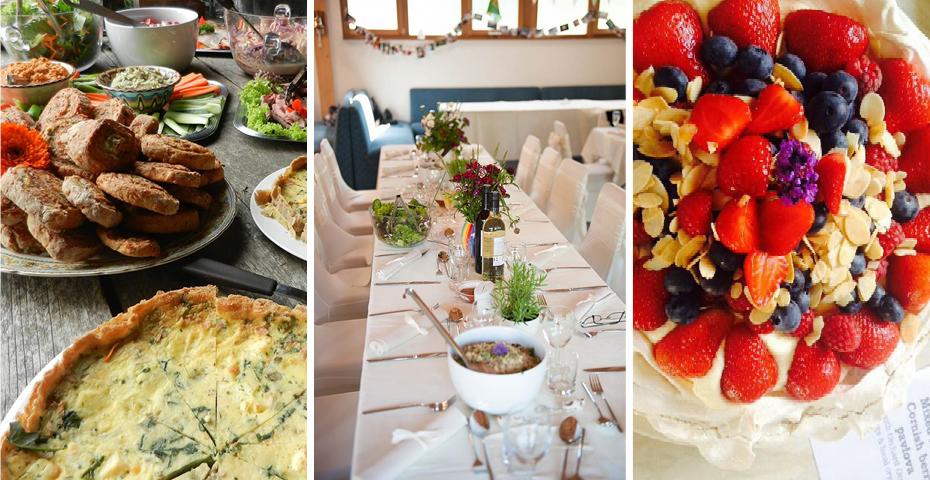 Based in Totnes, The Kitchen Table is a small catering company with a big presence in the local catering industry. For intimate dinner parties and family feasts with delicious, imaginative options, the Kitchen Table can help to design a bespoke menu for you and your guests. Fantastically supportive of local producers, they often purchase their ingredients directly from local farms and growers to create seasonal dishes with flare. If you have any dietary queries, just let the team know of any allergies and intolerances and they will work with you to create the perfect menu for your party. 
Rose Farm hog roasts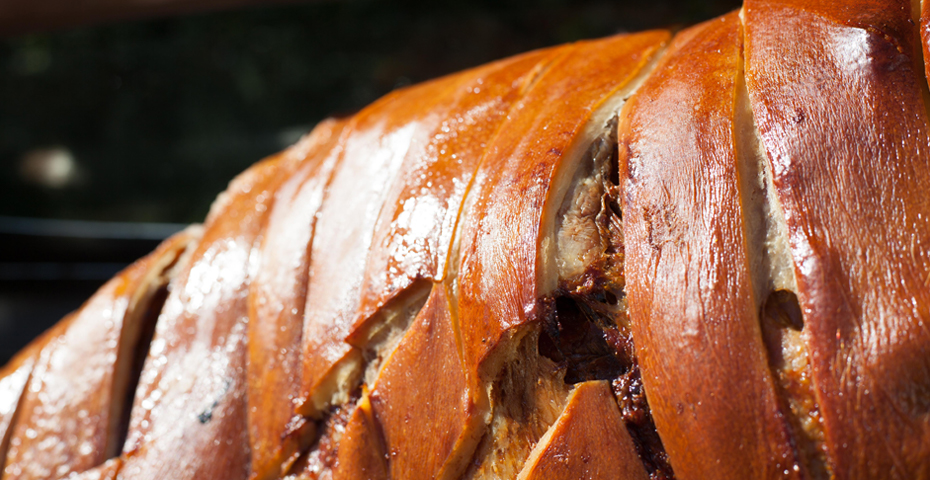 Rose Farm is a family run farm, nestled in the rolling hills of South Devon, near Salcombe. Popular amongst locals for their succulent hog roasts and pulled pork, as well as their more recent addition of mac and cheese, their hearty food options are always admired at local events as well as privately catered parties and weddings. Catering for a range of dietary requirements, this is a fantastic option for a casual dining experience for a large group. Rose Farm Hog Roasts are extremely popular in the local area amongst those getting married, so if you're looking to tie the knot in South Devon, take a look at these amazing wedding venues in South Devon, that perfectly compliment an indulgent banquet. 
Claire's Kitchen
Claire's Kitchen is based between Salcombe and Kingsbridge, bringing fresh local ingredients to the heart of fabulous gatherings, weddings, dinner parties and relaxed celebrations. Living on a farm herself, the majority of the food served from Claire's Kitchen is grown, picked and prepared (and of course served!) from what she has on the farm. Offering served receptions, buffets, sharing platters, canapés, as well as a spit roast, it's their barbecue option that really excites us. Named 'The Barbecue Beast' this sizzling feast lives up to its name, bringing enthused smokey flavours and aromas to life. This option makes for a fantastic display of how fresh local ingredients, full of mouth-watering flavours, are delicious when cooked simply and allow the quality of fantastic produce to sing and sizzle for itself. The barbecue is served with a selection of hand made salsas, pesto's, sauces and salads, and can cater for up to 250 guests, but equally, a smaller dinner party too.
Entertaining Food
If it's healthy nutritional feasts you're after, then Elaine Day's Entertaining Food is the perfect choice for your break, bringing fresh food from local farms and fisheries to your fork. With the choice of a short break catering service, be wined and dined and positively spoilt on your visit to South Devon. Take the hassle out of the kitchen and let the team at Entertaining Food shop, cook and clear up, so you can spend every important moment exploring our sandy shores and rolling countryside. From gourmet breakfasts and picnic lunches, to beach barbecues and light bites, as well as fine dining experiences in the comfort of your holiday home, spend your staycation indulging in mouth-watering local produce. If you're visiting the area for some serious down time, the team can drop off homemade ready made meals and pick up the plates later, so that you can relax as a family or group of friends.
Dartmouth Fine Foods
Creative, delicious and simply sumptuous, Dartmouth Fine Foods catering is a bespoke catering company that has been successfully catering for private dinner parties, weddings and events for over seven years. Dartmouth Fine Foods have developed their offering and have launched a small range of affordable, fresh and frozen, restaurant-quality meals and deli goods. The 'Friday Feast' is second to none and boasts a full menu including a starter, main course and dessert, best of all, you can even choose a specific wine to compliment your food! The grazing fish boxes and rump of Devon lamb are also popular options, but if this doesn't tickle your tastebuds then not to worry, there are plenty of other dining options on offer. Offering a delivery service to Dartmouth, Kingsbridge, Salcombe and also the Totnes area, including the smaller neighbouring villages in between such as Dartington, Strete, Blackawton and Torcross to name a few. Be sure to check their website for further information, and details on exact delivery arrangements. 
Coast & Country Cottages customers can enjoy an exclusive 10% discount on orders online over £50 with Dartmouth Fine Foods, use code Coast&Country10 to activate your discount.
Hearty Food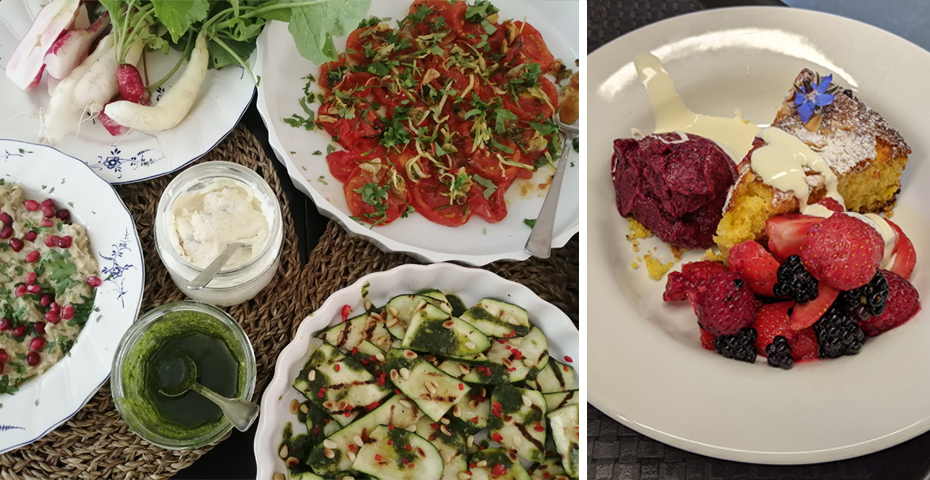 Hearty Food specialises in providing a casual dining experience for groups and families on holiday or celebrating a special occasion. The service is perfect for people who want to relax and dine in the comfort of their own surroundings. Everything is taken care of from shopping, cooking, laying the table to wining, dining and clearing up. 
Private Chef, Val, uses fresh local and seasonal ingredients to create sumptuous sharing feasts for lunch, picnics and dinner. If you love fish and seafood there's a menu featuring crab cakes and tartare sauce, mackerel with salsa verde and citrus whole baked fish. There's also some exciting global themed menus such as Greek, Spanish, Middle Eastern and Southern Indian. Alternatively, you can create your own bespoke menu from a wide choice of delectable dishes to suit your tastes. Val is happy to accommodate.
Hearty Food | Watercress soup with pan-fried scallop & crispy Prosciutto recipe
This is such a simple and delicious recipe, that's perfect as a starter or a lunch. Soup can often be quite filling so it's not always a go-to choice for a starter. However, this vibrant soup is fresh and light – with a luxurious buttery scallop and contrasting saltiness from the crispy Prosciutto. It's versatile, too. Substitute the scallop for a poached egg, herb oil or a swirl of cream and some croutons.
Semrushtools