Seafood lovers should know: We're still in the peak of Japan's crab season. While fresh, whole, boiled crab and crab sushi usually come first to mind, one perennially favorite kani (crab) dish that doesn't get much publicity is crab cream croquettes.
Called "korokke" in Japanese, these crunchy and silky morsels are a standby at yōshoku (Japanese-style Western cuisine) restaurants. Filled with old-fashioned bechamel sauce and shredded crabmeat, piping hot korokke are as much a feast for the mouth as the eye: When bitten, the creamy filling oozes out in a most satisfying way.
Crab cream croquettes have been enjoyed in Japan since the early 20th century, when they began to be featured at "fancy" Western-style restaurants. It is believed that one such establishment, Tokyo Kaikan in the Marunouchi area, was one of the first to serve this delicacy after opening in 1922.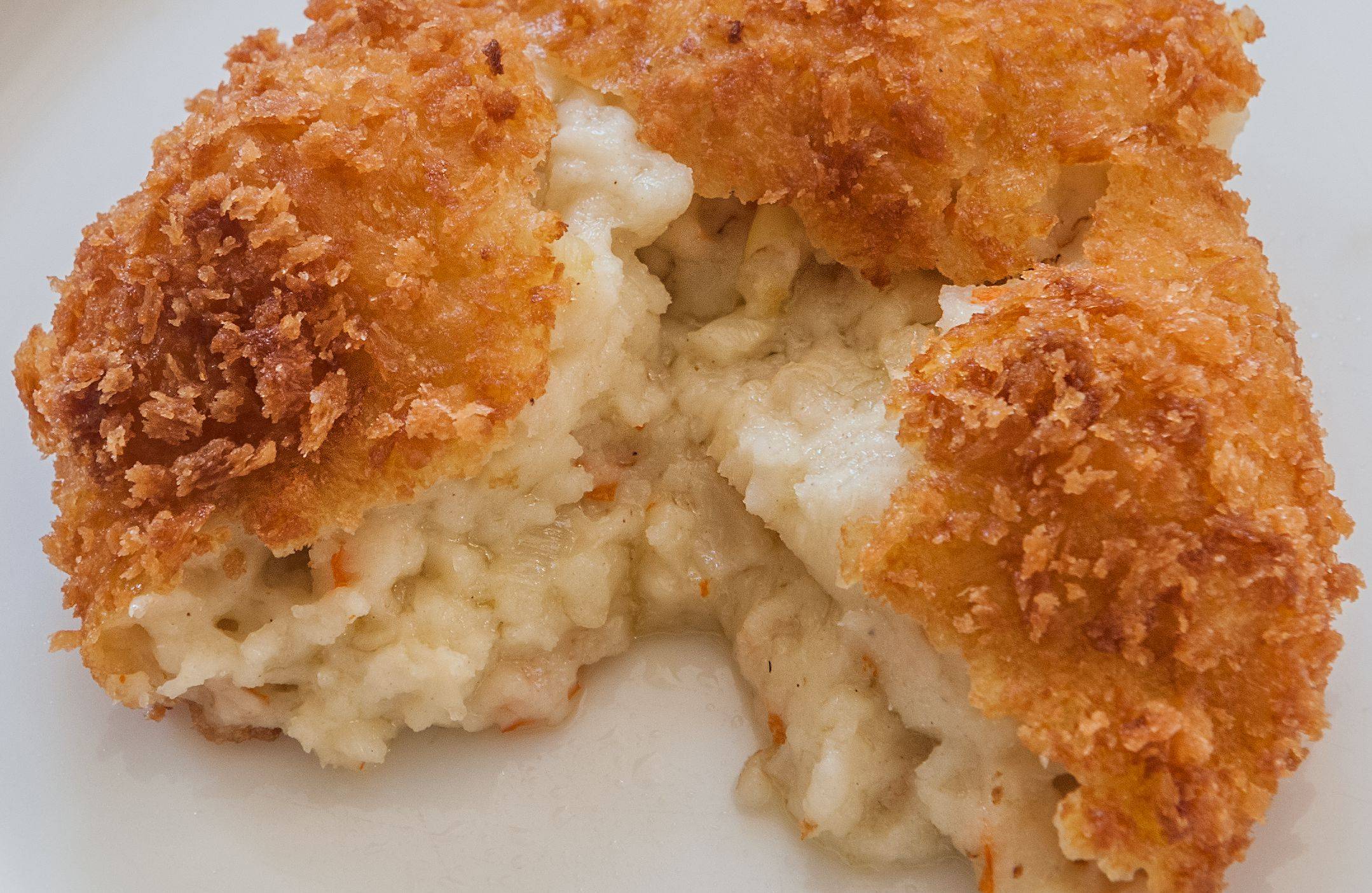 1. Start with the bechamel. Melt your butter in a 26-centimeter diameter or larger nonstick frying pan until it's bubbling gently at the edges. Add the flour, and saute it until it becomes loose and grainy — take care not to let it burn. Add the milk little by little, stirring well between additions. If any lumps form, you can break them up with a whisk. When all the milk has been added, stir everything into a smooth paste that runs away from the sides of the pan. Add the salt and nutmeg, mix gently and set aside.
2. In a separate pan, add the tablespoon of vegetable oil and minced onion. Saute until the onion is translucent, then add the crabmeat and saute for another minute. Mix your crab and onion into the bechamel sauce evenly, then transfer everything into a shallow container, cover with cling film and refrigerate overnight.
3. When the crab, onion and bechamel mixture has firmly set, divide into 12 portions and form each into a small, flat cylinder.
4. In a bowl, beat your eggs. Set out the flour and panko breadcrumbs into separate containers, then coat the crab, onion and bechamel cylinders in the flour first followed by the egg and, finally, the panko.
5. Heat your frying oil to 180 degrees Celsius. Put one or two of the croquettes into the hot oil at a time and deep-fry until golden brown. Be sure to drain the oil from your fried croquettes well. Serve while piping hot with shredded cabbage, cherry tomatoes, parsley and, optionally, some Japanese-style Worcestershire sauce or ketchup.
Semrushtools