Christmas cakes in Japan are a mishmash of whipped cream and unseasonal fruit. A true holiday dessert should boast warming spices and that comforting density that makes you loosen your belt for just a smidge more of that brandy-baked hug. Christmas cakes should also be solid enough to last beyond one meal at room temperature rather than leftovers limply disintegrating in the fridge.
What follows is a fruit cake of sorts, but not the traditional kind either. The zest and orange fortified with cooking mirin make for a fun, marmalade-ish glazed fruit base; and the meringue topping tips its hat to pavlova and, in combination with a heavy dose of spice, evokes eggnog or mulled wine.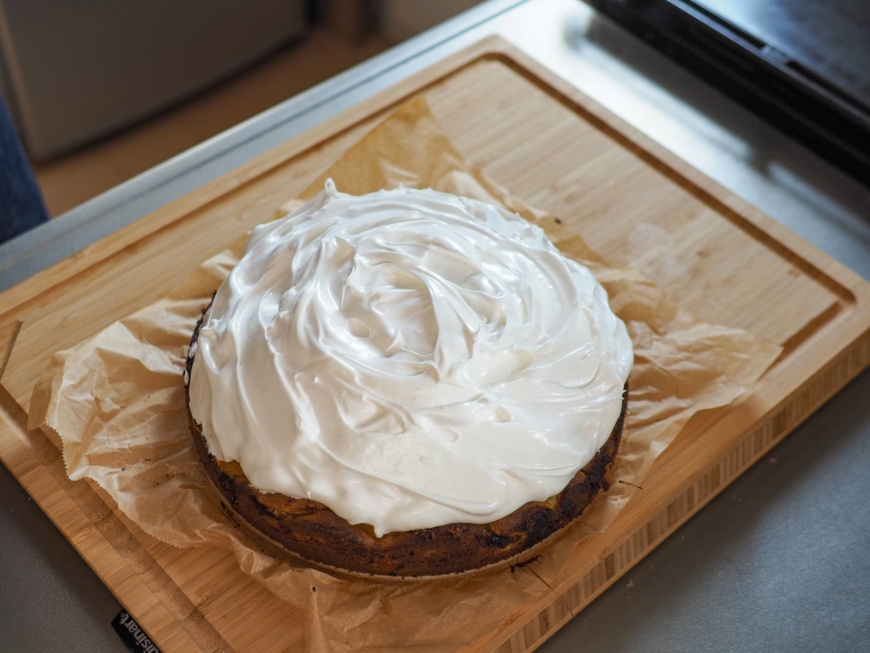 1. Preheat your oven to 180 degrees Celsius and line a 24-centimeter springform with paper.
2. Zest your oranges, then set aside a third for a garnish. Cream the sugar, butter and remaining zest in a large bowl.
3. Separate your egg yolks and whites (set these aside for later), then add the yolks, flour, baking powder and half of the mirin and fold together until well combined. Next, spoon the batter into the springform to cover the base evenly.
4. Peel and cut your oranges into bite-size chunks, then arrange them on top of the batter. Once placed, glaze the orange chunks with your remaining mirin and grate the nutmeg evenly over the top.
5. If you're making the cake only, bake for 50 minutes. If you're topping it with the meringue, bake for 40 minutes, then remove the cake from the oven.
1. As the cake bakes, raise five centimeters of water in a medium pot to a simmer.
2. In a metal bowl, mix together your egg whites with sugar, mirin, water, cream of tartar and salt. Once mixed, set above the pot and mix constantly with a rubber scraper until the sugar dissolves and mixture is warmed to about 70 C. This should take around five minutes.
3. Remove the bowl from heat and, with a balloon whisk, gradually mix faster until the blend becomes glossy and forms stiff peaks. This should take about another five minutes, but if you prefer a rotary beater, it may take up to 10.
4. By this point, your cake has likely baked for 40 minutes. Remove it from the oven, then turn up the temperature to 210 C. While the oven is heating, remove the springform from the cake and spread the meringue mix over the hot cake.
5. Once your oven is hot, bake the meringue-iced cake for eight to 10 minutes or until lightly browned. Garnish with orange zest and let it cool before serving.
Semrushtools