Are you on the hunt for a truly exceptional gift for someone special in your life? Whether it's a colleague, a loved one, or simply a treat for yourself, luxury pens are a timeless and sophisticated choice. With the new year well underway, it's the perfect time to explore the latest offerings in the world of luxury pens. Maybe something to go with your luxury notebook.
So, from sleek and minimalist designs to intricate, handcrafted pieces, there's vast number of options available for those seeking the creme de la creme of the pen world. The act of writing is a uniquely personal experience, and a luxury pen makes this experience much more worth it.
So sit back, relax, and prepare to be dazzled by the finest luxury pens of 2023. Whether you're a seasoned pen enthusiast or a newcomer to the world of luxury writing instruments, you're sure to find something that catches your eye. Let's begin our journey into the world of the most impressive luxury pens for 2023.
What luxury pen brands to look out for?
There are many famous, and also not-that-well-known luxury pen brands and manufacturers around the world, we haven't included everyone, but this is a pretty comprehensive list of luxury pen brands to look out for:
These are just a few of the biggest and most well-known luxury pen manufacturers. There are many other companies around the world that make high-end writing instruments, each with its own unique style and approach to craftsmanship.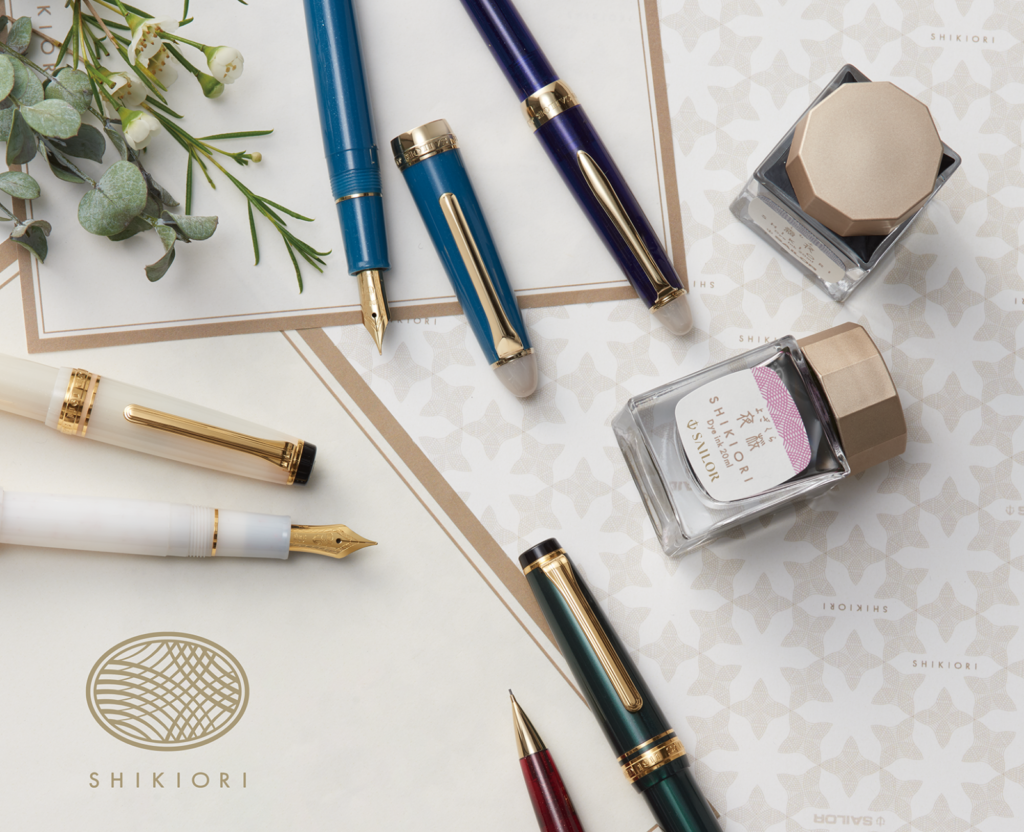 Our Favourite Luxury Pens
Welcome to the first section dedicated to our favourite luxury pens! Here, we'll explore some of the most beautiful and exclusive pens available on the market today. This list is pen-porn for avid pen collectors. It's also inspiration for those looking to treat themselves (or a loved one) to a new luxury pen.
From elegant fountain pens to sleek rollerballs, we've selected a bunch of luxury pens and we'll discuss the features that make each pen unique. Whether you're a writer, an artist, an avid note scribbler, or simply someone who appreciates the finer things in life (they'll make good office art!), we hope you'll find inspiration and enjoyment in this collection of our favourite luxury pens.
Pelikan – Souveran M800 '40 Year Anniversary' (Limited Edition)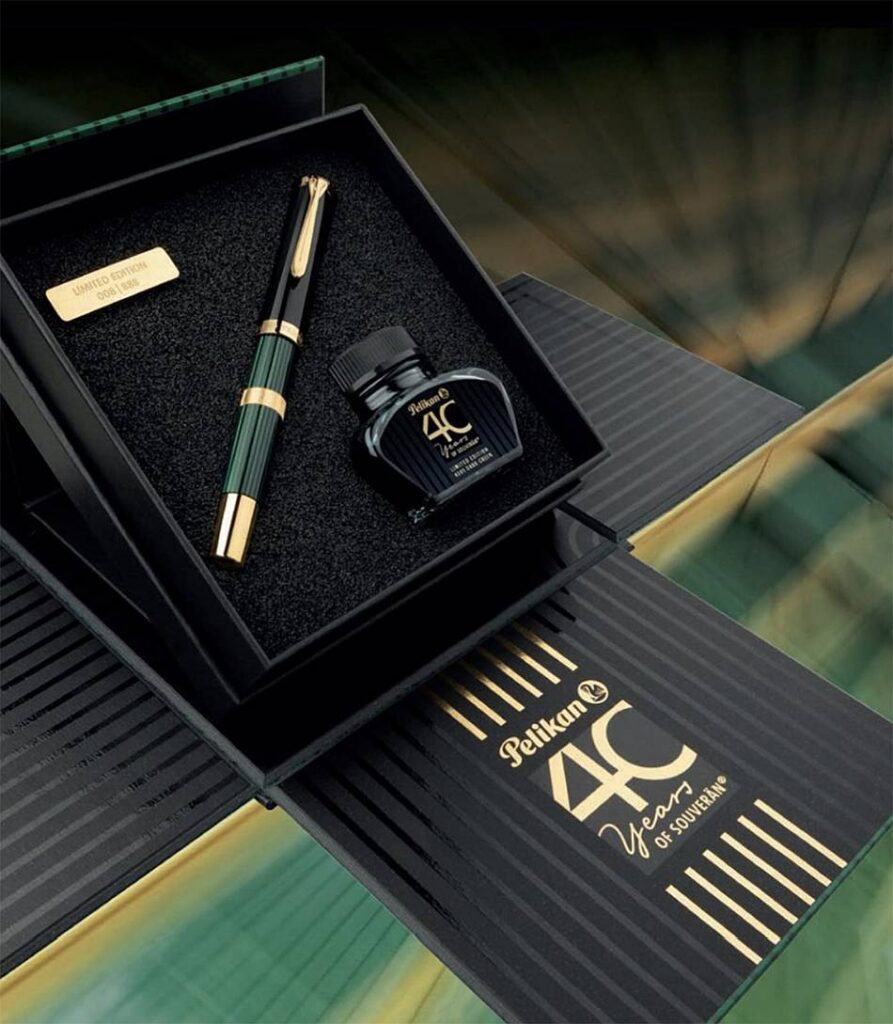 This absolute beauty of a pen is a special edition that was released by the German luxury pen manufacturer Pelikan in 2019 to celebrate the 40th anniversary of the Souverän line of pens. The Souverän line is well-known amongst stylophiles for its classic design and top-of-the-range materials, and the M800 model is probably the most popular in the line.
The '40 Year Anniversary' edition has a super unique design (as you can see above) that pays tribute to the original Souverän pen that was introduced by the company way back in 1950. The pen is made from top-quality resin that has been coloured in an enchanting deep blue-green that is reminiscent of the original design. We also get features a gold-plated clip and trim that adds to its elegance and sophistication.
One of the most notable features of this pen is its nib (Michael Scott that's what she said).
The pen comes with a two-tone 18-karat gold nib that has been specially engraved with the Pelikan logo and the number 40 to commemorate this event. The nib is available in a variety of widths, including extra fine, fine, medium, and broad, to suit the preferences of the writer.
The Pelikan Souverän M800 Limited Edition is a highly coveted pen amongst enthusiasts and collectors around the globe. Only 4,000 pens were ever produced, making it rare and super exclusive. It's a must-have addition to any collection. The pen comes in a special presentation box that includes a certificate of authenticity, making it an ideal gift for those luxury pen lovers.
Sailor – Wabi Sabi 1st Fountain Pen Red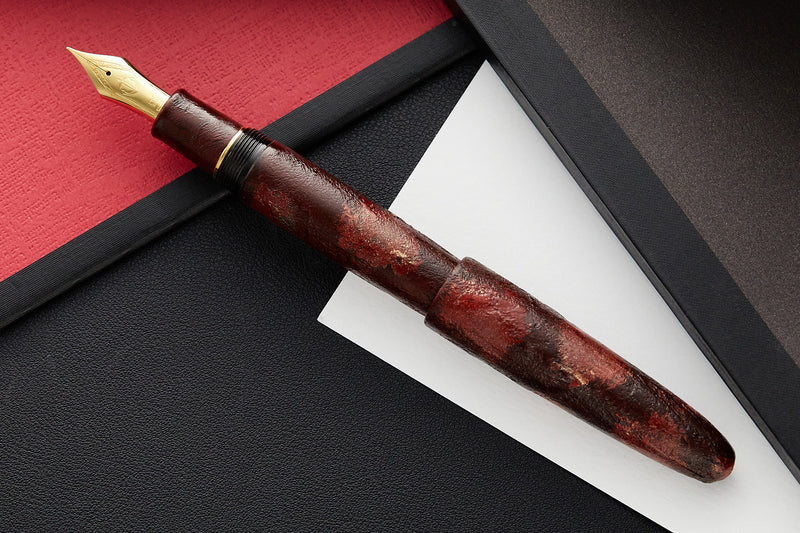 Another limited edition – there are a few in this collection.  This is the Sailor Wabi Sabi 1st Fountain Pen and it's made by the Japanese pen manufacturer Sailor. The Wabi Sabi series is inspired by the Japanese aesthetic of Wabi Sabi, which celebrates the beauty of imperfection and impermanence – more about that here.
This pen features a unique design that reflects plays perfectly to its story. It's made from ebonite, which is actually a natural rubber material that has a warm and organic feel to the hand. The body of the pen is hand-turned (classically) and finished with a very nice matte red urushi lacquer that gives it the rustic look you can see above.
More nib talk – the pen has a 21-karat gold nib that has been specially designed for the Wabi Sabi series. The nib is engraved with the Wabi Sabi alongside the Sailor logo. You can get it in a variety of widths, including fine, medium, and broad.
The Sailor Wabi Sabi 1st Fountain Pen is a limited edition pen, with only 1,000 pens produced worldwide. Each pen comes in a special wooden box with a certificate of authenticity (as standard). Fancy it?
Caran d'Ache – "Year of The Tiger" Pen (Limited Edition)
It's 2023, the year of the tiger – so it's fitting we included this stunning limited edition. The "Year of The Tiger" Pen is a very special fountain pen that was released by the Swiss pen crafters Caran d'Ache to celebrate the year of the tiger in the Chinese zodiac calendar.
The pen is made from black lacquer and features intricate tiger patterns that have been engraved using a special laser technique. The tiger is a symbol of courage, strength, and power in Chinese culture, and the pen captures the spirit of this animal in its design.
The pen has a 18-karat gold nib that is available which is customisable and also comes with a choice of widths. The nib is designed to provide a smooth and effortless writing experience, and it is suitable for both everyday writing and calligraphy.
A major plus for this pen is its packaging. The pen comes in a hand-crafted, special wooden box that's decorated with a stunning tiger motif, and it includes a story booklet that narrates the symbolism of the tiger in Chinese culture. 
If you're a collector, then the Caran d'Ache "Year of The Tiger" Pen should be on your list. An even more limited run here, with only 888 pens being produced, making it a rare and super valuable. Fancy a pen that's a symbol of good luck, prosperity, and success? Here's your weapon of choice.
Caran d'Ache – 1010 Timekeeper Fountain Pen
Watches and pens just go together right? Well, the 1010 Timekeeper Fountain Pen by Caran d'Ache is the second unique and innovative writing instrument on our list. It combines the art of traditional watchmaking with the craftsmanship of high-end pen manufacturing.
This is one of my favourites and is inspired by the timeless elegance of mechanical watches, and it features a number of design elements that pay homage to the rich history of Swiss watchmaking.
It's made from high-quality materials that are both durable and beautiful. The body of the pen is crafted from brass, which has been finished with a glossy black PVD coating that gives it a sleek and modern look. The cap of the pen is topped with a delicate ornamental pattern that feels like the intricate workings of a watch movement.
The pen, as you could expect, comes in a special package that is shaped like a watch case (this, I love!), complete with a cushioned interior and a transparent lid that allows the pen to be displayed like a treasured timepiece – perfect for an office, or man-cave (or woman-cave) display piece.
Overall, we'd recommend this stunning writing instrument that combines the best of traditional watchmaking with the precision and craftsmanship of high-end pen manufacturing. It does come at a price though at around $12,000. It is a symbol of Swiss excellence and innovation, and it is sure to impress!
Mont Blanc – High Artistry "The First Ascent" Fountain Pen
Now if you want to talk about a showstopper pen, then may I introduce this luxury pen that pays tribute to the history of mountaineering and exploration. The pen is part of the "High Artistry Collection" by Mont Blanc, which is an exclusive collection which is difficult to get hold of!
It's inspired by the first successful ascent of Mount Everest in 1953 by Sir Edmund Hillary and Tenzing Norgay (see the image above). The pen is composed of a combination of precious materials, including 18-karat gold, diamond, and mother-of-pearl, to create this stunningly beautiful and intricate piece.
The body of the pen features a relief map of Mount Everest that has been painstakingly carved and finished by hand. The map is set against a background of dark blue lapis lazuli, which represents the sky and the infinite possibilities of exploration. The cap of the pen is adorned with a diamond that represents the peak of Mount Everest and the triumph of human achievement.
Semrushtools