What better way to bid farewell to a long, trying year than over a delicious meal? For one night only, VUE — one of Singapore's most iconic rooftop bar and grill destinations — will be offering an exclusive menu for diners to eat their hearts out before ringing in the new year.
Upon arrival, guests will be treated to a glass of bubbly from Dom Perignon to start their dining experience, followed by a feast of sweet treats at VUE's Dessert Vault. These canapés include favourites like sea salt caramel chocolate tart, matcha raspberry cake, pecan hojicha entremet and banana chocolate mousse, as well as pistachio and blood orange flavoured ice cream and sorbet on bite-sized cones. 
Gluten-free options are also available if you're coeliac, with VUE offering specially-made desserts like coconut and pineapple verrine, chrysanthemum goji berry panna cotta, rum bon bon and yuzu and mikan posset to satisfy your sweet tooth without the repercussions.
A variety of premium imported cheeses will also be available at the restaurant's Cheese Counter. Diners can please their taste buds with the sharp flavours emanating from Appenzeller Extra, Camembert du Champ Secret, 36 months-aged Comte, Shropshire Blue and Tomme red pesto garlic, complemented with fresh and dried fruits, nuts, crackers, jams and house-made purees on the side.
And finally, the main event: VUE's six-course prix fixe dinner, priced at S$688++ per guest. It features a tasty selection of dishes to appease seafood and meat lovers alike, and includes a glass of Dom Perignon champagne, free-flow access to the Dessert Vault and Cheese Counter, and access to the restaurant's viewing deck.
If you're more of a seafood person, sweetened King Crab in Feuille de Brick, served with bergamot gel and sauce bercy, and Blue Fin Tuna and Razor Clam Tartare, diced and complemented with a soy foam are a must-try. The highlights though? Tarbouriehe No.2 oysters topped with Oscietra caviar and Carabinero Prawns rounded with smoked haddock parfait, emerald jelly and Beluga caviar.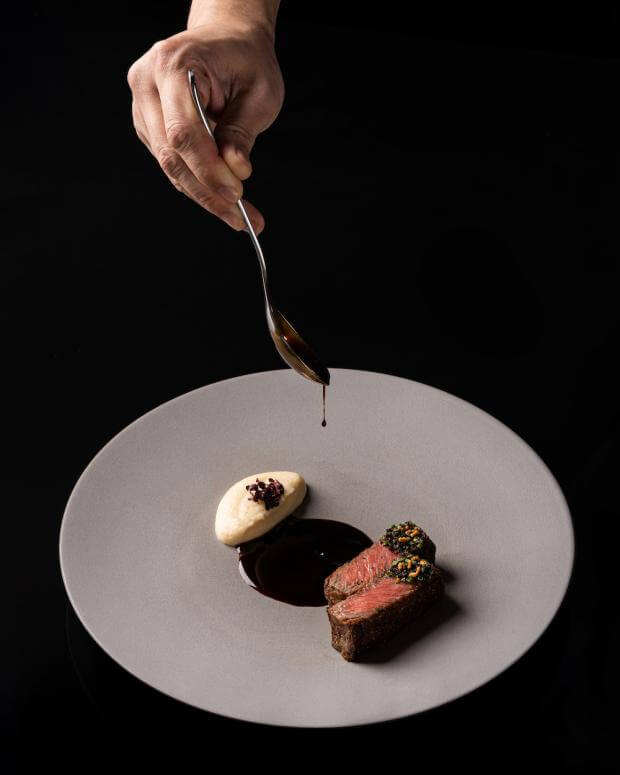 As for the hot mains, diners can expect to indulge in Dover Sole presented over melted leek and elevated with coconut fumet and kaffir lime oil, pan-seared Duck Breast fragranced with pink peppercorn, carrot variation and lavender sauce, and the house's Signature grilled A5 Black Wagyu Sirloin from Kumamoto, Japan, accompanied with Chervil root puree, citrus, shio kombu and yuzu kosho jus, finished with more dessert from the Dessert Vault to end off the night right.
Semrushtools